Men's Barber Shop in Scottsdale, AZ
At Who's Next Barber Shop, we treat every one of our clients like they're family. We don't rush you out the door, we take our time, getting to know you and what you want so that we can provide the best grooming experience to be found anywhere in Scottsdale, AZ.
Learn More Book Online

Packages
Shape Up
(Not quite ready for a haircut but you can use a cleanup. Let us shape you up.)
The Real Deal
(Haircut, shampoo, hot towel shave)
Executive Package
(The Real Deal plus a relaxing face mask and face massage… it's the best)
Appointments are available 7 days a week! Book Online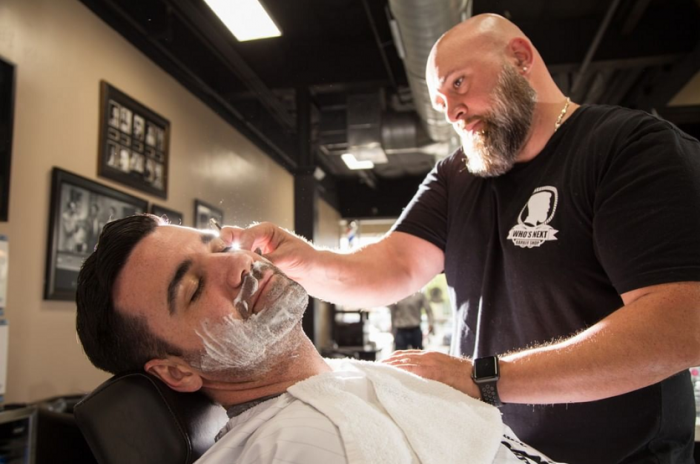 Your Local Men's Barber Shop
When you're looking for a men's and kid's barber shop near you in Scottsdale, AZ that truly understands your needs when it comes to your hair and overall appearance, come to Who's Next Barber Shop. Since 2007, we've been serving clients with a combination of the highest quality traditional barber shop services and the type of individualized attention you just can't get at a chain salon. It's our mission to get to know each customer, rather than rush through their haircut and send them on their way. Our customers know that, when they come to Who's Next Barber Shop, they won't just be leaving with a haircut—they'll leave feeling listened to, understood, and appreciated.
Finding a men's barber shop in Scottsdale, AZ that combines all the familiar local barber shop services—men's haircuts, straight-edge razor shaves, beard and mustache trims and more—with the care and attention associated with more upscale establishments can be a challenge. That's why, once you visit Who's Next Barber Shop, we think you'll be likely to come back in the future. From our flat-screen TVs and guy-friendly atmosphere to our attentive and experienced team of barbers, we provide a unique environment that's second to none.
Schedule an appointment with us and you'll soon understand why so many of our customers have made us their go-to barber shop:

We offer extraordinary grooming services in a comfortable, guy-friendly environment.

Our team is dedicated to providing quality customer service.

Our services and approach combine the traditional with the upscale.

We've been serving the Scottsdale area since 2007.

We'll make sure your experience is highly personalized.
Our Services Include:
Mens Haircuts
Kids Haircuts
Straight-Edge Razor Shave
Facial and Massage
Beard Trim
Moustache Trim
Hot Towel Shave
Haircuts
Grooming
Call Today to Schedule Your Next Haircut
For a barber shop experience like no other, visit the Who's Next Barber Shop near you for your next haircut, shave, beard and mustache trim and more. Contact us today!
Call Scottsdale
Proudly offering men's and kid's barber shop haircuts and beard trims to residents and passerbys of:
Scottsdale, AZ
Carefree, AZ
Fountain Hills, AZ
Mesa, AZ
Gilbert, AZ
Chandler, AZ
Glendale, AZ
Peoria, AZ
and the surrounding areas.